2017 CAFL Draft Recap
TheCAFLdraftisover,buttheoffseasonfunisjustbeginning.Beforefreeagencystarts,werecapwhowasselectedwhereintheleague.Therewereplentyofinterestingselectionsinthedraft,buttheseweresomeoftheonesthatstoodout.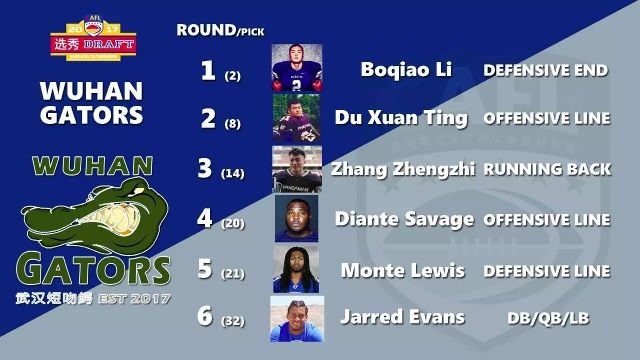 FirstRound– Second Overall, Boqiao Li, DE
Wuhan Head Coach J.W. Kenton was impressed with Li at the Austin, Texas combine. His size at 6-3, 235 and speed with a 4.66 in the 40 yard dash caught the eye of the coach. "He's got a great motor and he's only been playing football for three years," Kenton said. Li, who goes by the name Bruce, is 21 years old and could have many seasons in the CAFL ahead of him.
Third Round– 14thOverall, Zhang Zhengzhi, RB
Zhang was listed as a running back on his draft application but coach Kenton projects Zhang, who stands in at 6-3, 225, to play wide receiver or linebacker as there are roster spots open at each position.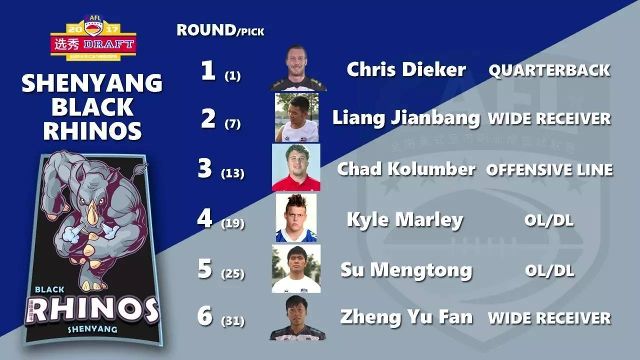 First Round– First Overall, Chris Dieker, QB
Coach Robert Gordon watched Dieker in the offseason during a camp workout and liked what he saw including his leadership skills. Dieker has size at 6-5, 235 and his resume is impressive having Arena Football League experience. Knowing how to communicate with players who might speak a different language is a plus as Dieker helped the Beijing Lions to the China Bowl Championship last season.
First Round– Fourth Overall Pick, Yang Shunjun, LB
Coach Derek Stingley projects Yang as a linebacker as he has good size and is physical. He should be able to step in as both Fan Rong and Tian Ye were released at the end of the season.
First Round– Fifth Overall, Cheng Chi Sing, WR/DB
Coach Rod Miller hopes that Cheng can fill a void on both sides of the ball. He may be called on to help in the secondary as defensive backs Tanner Varner and Joe Phinesee were released at the end of the season.
Fifth Round– 29thOverall, Bret Piekarski, OL
Coach Miller picked up a lineman who can hold his own on the offensive line and play some tight end as well. Piekarski is 6-4. 310 and currently plays for Cleveland in the AFL. The Lakeville, MN native and St. Cloud State graduate has also played for Lehigh Valley in the National Arena League where he received All-NAL Second Team Honors.
Third Round– 15thOverall, Shi Yiqing, QB
Shi becomes the example for all Chinese players who play the position. He currently is the only Chinese quarterback in the CAFL. Shi displayed an accurate arm and good footwork at the Beijing combine and now must carry that forward to the next level.
Fourth Round– 24thOverall, Bryce Gauw, WR
Gauw took part in the Shanghai combine and showed the skills that make him a candidate to replace Junxing Zhang who was released at the end of the year. He becomes the second Chinese player from Canada to join the roster as he resides in Edmonton, Alberta.
Sixth Round– 36thOverall, Poppy Livers, WR
A small, agile receiver at 5-7, 170, Livers currently plays for coach Dolezel with the Philadelphia Soul. He also played professionally in Germany with the Cologne Crocodiles and was a standout at Villanova University.
For more news and information, please visit our website at www.caflfootball.com, or visit our official Weibo or WeChat pages.